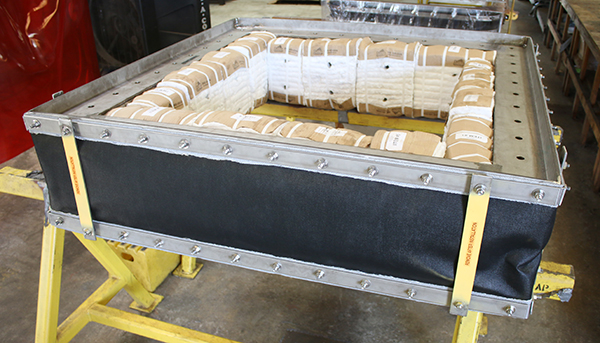 Type:
Fabric Expansion Joints
Size:
67″ Long x 67″ Wide x 14″ Tall
Material:
3-Layer Fabric Belt with Kaowool Insulation
304 Stainless Steel Angle Flanges
Design
Operating Temp: 2012°F at +/- 100″ Water Column
1″ of Lateral Deflection
Testing:
100% Dye Penetrant Testing & Q.C. Inspection
Fabric pipe expansion joints are often used in ducts that carry hot gasses at low pressures. The major design parameters are the temperatures and flow rates of the gasses and the amount and abrasiveness of solids suspended in the gasses. This fabric expansion joint utilizes a bulky flexible material, also called an Insulation Pillow, to shield against high temperatures protecting the belting material. Refractory is also used in the construction of this joint but is designed so that it does not interfere with movement. Our experienced engineers know that every element of this expansion joint plays a role in its rating for certain temperatures and the number of hours of operation. View Fabric Expansion Joints Product Section.
Fabric expansion joints are key in the systems supporting power and refining plants focused around renewable carbon-neutral product offerings. We have worked with the new entrants in the marketplace but also helped our long-term clients transition their older fossil fuel-based assets to green technology. These plants include biochar from biomass processing, carbon black, clean hydrogen, styrene, and cement.
PT&P REF. ORIGINAL POST 03182020