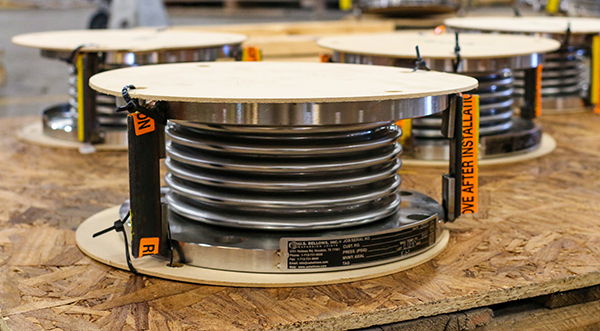 Type:
Single Flanged Expansion Joint
Size:
5″ Length | 6″ ID | 11″ O.D.
Material:
ASTM A240-316 Stainless Steel
Design
200°F | 150 psig | 7,942 lb/in. Lateral Spring Rate
0.625 " Axial Travel | 803 lb/in. Axial Spring Rate
0.125″ Lateral Offset | 225 psig Test Pressure
Testing:
100% Dye-Penetrant | Air, Soap, & Bubble
These units were sold to a company that manufactures customized power conversion solutions used in power supplies, transformers, inductors and capacitors for industrial and military applications. Expansion joints are used in a wide range of industries from automotive, food processing, biofuels, and wastewater treatment plants. This expansion joint is simply a bellows element with flanged end connections. Regardless of accessories, such as liners and covers, it will deflect in any direction or plane. It is the least expensive type of metal expansion joint but requires that the piping be controlled or guided as to the specified direction of the movements required. This type of expansion joint should not be expected to control the movement of the pipe. If the piping analysis shows that the expansion joint must accept axial compression, then the piping must be guided and constrained so that only that movement will occur. This expansion joint will not resist any deflection other than the resistance of the bellows, which is a function of the spring rate times the deflection amount. It is incapable of resisting the pressure thrust along its axis, which is the product of the pressure times the effective, or cross-sectional, area of the bellows. Large diameter units, even with low pressures, can generate very large axial pressure thrust forces, which must be contained by main and directional anchors. Otherwise, the expansion joint will exceed its designed function.
Piping Technology and its subsidiaries, in this case, US Bellows, prides itself on its long-standing relationships with ALL its customers. We have worked with this client for over 10 years with our first project in the early 2000s. We have been their vendor of choice for almost every expansion joint since then. We believe we must be strategic partners with our clients to understand their technical, delivery, and commercial needs to best move forward. This is where we are different than other key players as we have "in-house" technical and manufacturing expertise in our plant located in Houston, Texas to address customer queries or updates in real-time. An example of what our customers say:
"Thank you very much for the excellent work you and your associates at USB provided on my expansion joint order. Although we agreed to 10-day rush delivery, your shop responded to my project schedule and delivered 14 bellows assemblies in only 7 days from my order. This quick delivery helped us avert a scheduling conflict on a very critical project. I would be glad to recommend U.S. Bellows to anyone in need of a quality product with on-time or better delivery. 2022"
*Designed in accordance with the Standards of the Expansion Joint Manufacturers Association, 10th E, and welding per ASME Boiler and Pressure Vessel Code Section IX.
PT&P REF. ORIGINAL POST 08252020
Read More