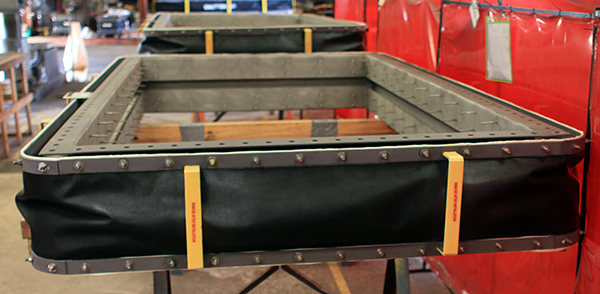 Type:
Fabric Expansion Joint
Size:
70″ W x 126″ L x 17.5″ Face-to-Face
Material:
PTFE Fabric Belt | Stainless Steel Framework
Design
Operating Temp: -20°F to 600°F | Operating Pressure +/- 100″ Water Column
Movement +/- 1″ Axial Compression & Lateral Offset Combined
Testing:
Dye Penetrant Examined | Anchor Install Test& Q.C. Inspection
U.S Bellows custom-designed a rectangular fabric expansion joint with rounded corners for an exhaust duct application at a gas turbine in Saudi, Arabia. The unit is 70″ W x 126″ L x 17.5″ face-to-face; the fabric belt is PTFE and the framework is stainless steel. The expansion joint is designed for an operating temperature range from -20°F to 600°F, an operating pressure of +/- 100″ water column, and a movement of +/- 1″ axial compression and lateral offset combined. A 100% dye-penetrate exam and anchor install test were performed before shipment.
Read More