Regarding rigid supports what is the function of guides?
July 28, 2014
Guides prevent movement in one or two directions.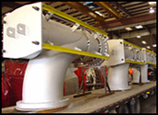 Upcoming Live Webinar
Sign-up for a Live Technical Webinar…
Fabric Expansion Joints Webinar by U.S. Bellows, Inc.
Date: Thursday, December 8, 2022 - Register for 10:00 am
*Note: Time Zone is CDT * Central Daylight Savings Time / GMT -5h

Live Webinars are 1 PE/PDH Credit for TX Professional Engineers
This presentation will briefly touch on the basics of fabric expansion joints; however, is mainly focused on the various designs, material details, and applications. Learn how fabric expansion joints are engineered and fabricated for various applications and the many factors that influence those designs. View the abundance of materials used, including Fluoroplastic and Fluoroelastomer, and their respective capabilities. Take a journey through a Fossil Fired Power Plant and see exactly where fabric expansion joints are required.
Upcoming Webinars:
No upcoming webinars. Please check later.
View video recordings from past webinars…



Online Course
Expansion Joint Application and Design
Our Expansion Joint course was developed for the following disciplines…
Piping system designers that may decide to use expansion joints
Expansion joint designers use the information provided by piping system designers to determine the best design to meet the requirements.
Designers that use modern software systems to evaluate different options
Engineers / Managers: field, maintenance, process, operations, construction, surveyors
*This online course is approved for 8 hrs. P.E. Credits
Register Now