U.S. Bellows Company Profile
U.S. Bellows, Inc. has been designing and manufacturing engineered pipe expansion joints for the industry since the 1960s. Today, U.S. Bellows consists of manufacturing resources of RM Engineered Products of Ladson, SC (acquired in 1995) and Ketema – U.S. Bellows, Inc. of San Diego, California (acquired in 1997).
Membership / Certification
U.S. Bellows is a proud member of the Expansion Joint Manufacturer's Association (EJMA), since 2002 with Representation on both the technical and management committees.



We also hold a current ASME Boiler and Pressure Vessel Code.
QA/QC Approval
UOP
General Electric / Stewart and Stevenson
U.S. Bellows, Inc. has great deal of experience designing and manufacturing engineered pipe expansion joints of all types including:
Additionally, U.S. Bellows has focused expertise in the design and engineering of pipe expansion joint products for particular industries and applications.
U.S. Bellows Manufacturing Facility


ENGINEERING & DESIGN: Engineering and design is done per EJMA equations as well as per the latest revisions of the ASME B31.3, ASME B31.1, and ASME Section 8, Division 1. Design calculations are performed using design software developed in-house and calculations are further checked using hand calculations. U.S. Bellows also has full in-house finite element analysis capabilities and we often use this methodology to prove designs. U.S. Bellows offers 24-hour service and we have often provided emergency field service during installation or plant shutdowns. Our history in pipe expansion joints goes back a long way: Our founder first wrote a fortran program to design expansion according to Koppe and Sair's early paper on pipe expansion joint design circa 1975.
QUALITY CONTROL: Additionally, U.S. Bellows does extensive physical testing to prove designs. Each bellows and pipe expansion joint unit goes through in-process quality control using a system of travelers. Final in-house inspection and testing is performed prior to shipping, based on customer requirements. U.S. Bellows has performed a variety of tests on pipe expansion joints ranging from X-Ray tests and Hydrotests to Helium Leak tests (using a mass spectrometer). Our manufacturing shop also has ASME Section VIII CODE certification for jobs requiring CODE certification.
FACILITIES: U.S. Bellows is located on a 35 acre property in Houston, Texas, USA, within more than 450,000 square feet of covered shop space (approximately 10 acres). Our proximity the Houston Ship Channel, one of the largest ports in the United States and in the world, makes us a convenient supplier to projects around the world. U.S. Bellows recently completed the construction of a 100,000 square foot expansion to our manufacturing plant and we continue to grow. We invite you to visit our manufacturing facility and give us the opportunity to demonstrate our engineering and manufacturing capabilities.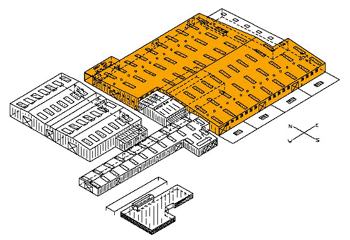 Send us your pipe expansion joint inquiries via e-mail at sales@usbellows.com or via fax at +1-713-731-8640. Please contact us for further discussions. We look forward to doing business with you.