Regarding resilient support what do resilient springs provide?
July 28, 2014
Resilient springs provide variable lifting force during pipe deflection.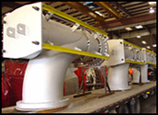 Upcoming Live Webinar
U.S. Bellows 101 – The Basics of Expansion Joints
Date: Thursday, October 13, 2022
Register for 10:00 am CDT
Note: Time Zone is CDT * Central Daylight Savings Time / GMT -5h
Live Webinars are worth 1 PDH Credit for TX Professional Engineers
Listen to in-depth explanations on how to choose the type of expansion joint that will best suit your system. Learn about the bellows movements throughout the piping system due to thermal changes of mechanical motion. Increase your understanding of the different types of expansion joints and value-added services offered by U.S. Bellows.
Upcoming Webinars:
October 13th: U.S. Bellows 101 – The Basics of Expansion Joints 10:00 am
October 20th: Shock Control, Restraint & Support Devices Webinar 10:00 am OR 2:00 pm
October 27th: Pipe Clamp Design, Application & Installation Webinar 10:00 am OR 2:00 pm
View video recordings from past webinars…



Online Course
Expansion Joint Application and Design
Our Expansion Joint course was developed for the following disciplines…
Piping system designers that may decide to use expansion joints
Expansion joint designers use the information provided by piping system designers to determine the best design to meet the requirements.
Designers that use modern software systems to evaluate different options
Engineers / Managers: field, maintenance, process, operations, construction, surveyors
*This online course is approved for 8 hrs. P.E. Credits
Register Now