WARNING: Extreme care must be exercised while inspecting any pressurized system or component.
Immediately after placing the system in operation, a visual inspection shall be conducted to ensure that the thermal expansion is being absorbed by the pipe expansion joints in the manner for which they were designed. The bellows shall be inspected for evidence of unanticipated vibration.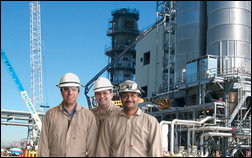 U.S. Bellows, Inc. Field Service Team
A program of periodic inspection shall be planned by the system designer and conducted throughout the operating life of the system. The frequency of these inspections will be determined by the service and environmental conditions involved. These inspections should include the items noted previously as well as an examination for signs of external corrosion, loosening of threaded fasteners and deterioration of anchors, guides and other hardware.
WARNING: It must be understood that this inspection program, without any other backup information, cannot give evidence of damage due to fatigue, stress corrosion or general internal corrosion. These can be the cause of sudden failures and generally occur without any visible or audible warning.
Where the critical nature of the system warrants, it may be necessary to devise means for minimizing the probability of this type of failure, including periodic preventative replacement of critical system components. Where any inspection reveals evidence of malfunction, damage or deterioration, this shall be reviewed by competent design authority for resolution.
Crack in bellows while in-service