By David Smith & John Demusz
October 12, 2010
An expansion joint and a pipe loop are two methods employed to safely absorb thermal expansion or contraction in piping systems due to thermal temperature changes. When design conditions exist, where an expansion joint or a pipe loop can be utilized, the major advantages of using an expansion joint are as follows:
Space is inadequate for a pipe loop with sufficient flexibility.
A minimum pressure drop throughout the pipeline is required and the absence of flow turbulence from the elbows and piping is required by process flow conditions.
The fluid is abrasive and flows at a very high velocity.
There is no adequate support structure to support the size, shape, and weight of a pipe loop.
The pipe loop is impractical as in an application of low pressure or large diameter.
The construction schedule does not allow for the man-hours required to install the pipe loop and the piping loop support structure.
In most cases, it is more economical to use an expansion joint instead of pipe loops.
Piping System with Expansion Joints

Pipe Loop to Absorb Thermal Movement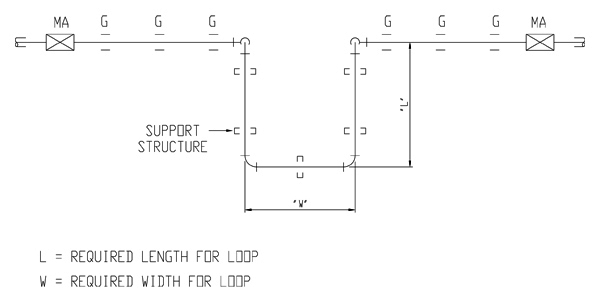 Both the pipe loop and the expansion joint will accommodate thermal movement. In many applications, either solution will be effective and reliable. Often the choice is made based upon the preference of the designer. The economic aspect should be the most important consideration and is sometimes not taken into consideration.